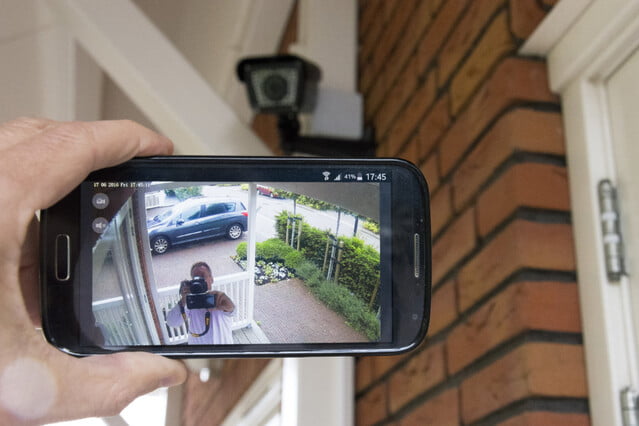 Using a home security camera provides homeowners with peace of mind about loved ones, pets, and personal property. Affordability and ease of installation make setting up a home security camera something almost anyone can do.
Why use a home security camera? Using a home security camera lets homeowners know what's going on in their home, on their property or in a setting involving loved ones, pets or property. Monitoring the actions of caregivers and service people, making sure teenagers are where they're supposed to be and making sure important belongings aren't bothered are some of the reasons to install a home security camera.
Nanny cams, as they were called, were the first affordable version of a home security camera. Technology has advanced, improving the images captured with nanny cams and increasing options for use. This type of home security camera sends images to a base station for viewing via cell phone, computer or television. While small and easy to use, wireless nanny cameras may not include encryption. Unencrypted wireless signals can easily be hacked by others.
Using a home security camera to monitor loved ones is nothing new. Nanny cams have been around for some time, capturing what really goes in when parents aren't home. Infants and children are not the only reason to use a home security camera. Many people are taking care of aging parents and ill loved ones. With a camera recording all activity, viewers can make sure caregivers are responsible and patients are comfortable.
Pet owners find using a home security camera a simple and inexpensive way to keep an eye on beloved pets. Not only can they make sure pets aren't getting into something harmful, they can also make sure pets aren't enough for you name was quoted as saying without being harmed by others.
Homeowners can use a home security camera to monitor any part of home or home business. If animals or equipment are housed in outbuildings, surveillance equipment can be utilized to monitor the area.
Choosing a home security camera is a matter of need and budget. For monitoring small or confined areas, the nanny cam or simple web cam is often adequate. They're low cost and easy to hide if secret surveillance is required.
When it's necessary to monitor more area such as the entire home, kits are available. Homeowners choose the kit most appropriate for the layout and surveillance needs. Wired and wireless home security cameras are available.
Installing a wired home security camera is easier when first building the home or when remodeling. Using wireless technology eliminates the need for wiring. Many homeowners are already using wireless computer connections. A wireless home security camera operates the same way. Images are sent via signals through the wireless network. Advances in wireless security make protecting wireless networks simpler and more efficient.
The classic home security camera sends images to the television or a computer. New technology allows the home security camera user to monitor images from anywhere there is an internet or cell phone connection.
Home security cameras enable users to maintain and protect property while maintaining their usual and customary lifestyle.

Wireless Home Security Camera
Home security is an important issue for any person. A person's home is their castle and they want to feel safe and secure. There are several security measures that can be implemented to ensure security such as alarms but one that ensures peace of mind is a wireless home security camera package.
What's need in the package is a camera to fit either just outside the front or back door that transmits a wireless signal. The best one to buy would be one that has night vision to ensure you can see everything at night. The second would be a receiver. Some receivers have screens so you can watch what's going on no matter where you are and others need to be connected to a computer or television to see the transmission.
If connected to a computer or television the live feed from the camera can be directly recorded to a hard drive or a cassette or DVD depending on which is convenient. Several cameras can be implemented to get several signals meaning more coverage of the home and the surrounding area.
These wireless home security packages are common and can be purchased at most electronics stores. They are on the expensive side but are worth the purchase for the kind of technology it has. With almost everything becoming wireless these days it was only a matter of time until cameras became wireless also.
Most people need some sort of security measure in place, not for protection, but for peace of mind that they are safe in their home. Although there are several other measures that can be implemented in terms of security, the wireless home security camera is a valuable tool for keeping an eye on things at all times. It will complement any other security measure you have in place and will not disappoint.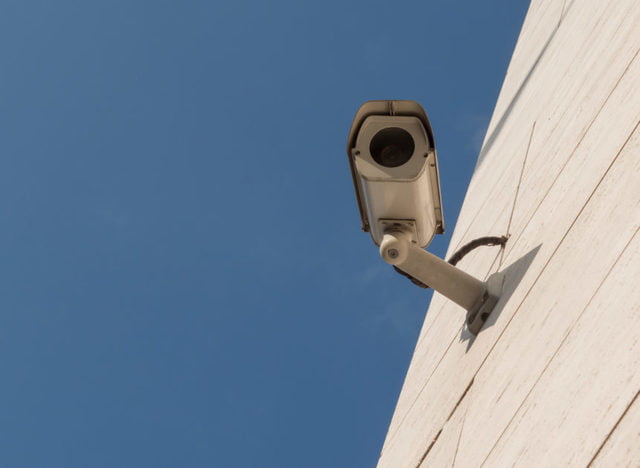 Is a Dummy Home Security Camera Economical?
A home security camera is one way to protect your home against would be burglars. A home security camera system is essentially one or more small cameras that are mounted, usually, on the exterior of your home to deter would be burglars. A home security camera typically works in conjunction with a home security system.
In many cases the home security camera is activated by motion and can swivel to begin filming in the direction in which motion is detected. The home security camera will transmit the images that it views to a monitor where it can be viewed and recorded. Purchasing a home security camera for several locations on your property and the monitoring and recording equipment can be quite expensive.
A home security camera has been proven to be an effective burglary deterrent and for these reasons some homeowners opt for a dummy home security camera to deter burglars without the high price of a real home security camera.
The question, however, is whether or not a dummy home security camera can really be an effective way to protect your home from burglary. There really is no simple answer to this question. A dummy home security camera that is very convincing and can be difficult to distinguish from a real home security camera might be effective.
The more the dummy camera looks like the real thing, the more likely it is to fool burglars. The problem with this is that the more realistic the dummy security camera looks, the more expensive it will be. The price may still be lower than a real camera but it may be close enough in price that a real home security camera might be a better option.
There are many dummy home security cameras that can be purchased for very little money but when the price is lower so is the quality of the replication. A dummy home security camera that is clearly a fake will not be effective when it comes to deterring burglars.
For many determining whether or not a dummy security camera is an economical choices has more to do with effectiveness than it does with finances. A dummy security camera may certainly be an affordable home security option but if is not effective, it will turn out be very costly. A real home security camera will more than pay for itself if it prevents you from losing valuable or irreplaceable pieces of property.
A real home security camera not only acts as a burglary deterrent but in the event that the burglars do enter your property, a real security camera can record valuable evidence that might be useful in regaining your property.

Internet Security Camera: Knowing What's Happening inside Your Home While on Vacation
Being away from your home is always an unpleasant feeling especially when you're on vacation, principally if you don't know what's happening inside your home. You will have thoughts of getting robbed, and getting your home invaded by strangers.
With this kind of thought, you will most probably have an unpleasant vacation. Having a vacation means that you should relax and take it easy. It is a fact that you can't bring everything inside your home. So, the best way to protect all your things is by locking your home whenever you leave. However, because of the lock picking skills that some people may have, locking your home is not really enough.
Home alarm systems are very expensive. So, one good idea for securing your home and record every second on what's happening inside your home is through an internet security camera. These are cameras that can be accessed through the internet. With this kind of technology, you can remotely access your home computer installed with the internet security camera and instantly get live images of your home.
The camera also has remote control features that you can use in order to get a full view on what's going on in every part of your home.
The internet security camera can send live images directly over IP network and enables authorized users to remotely or locally access the camera. It will allow you to access the camera by typing in your user name and password.
Since the internet security camera can be controlled, you can make it tilt, pan, zoom and take a look at any part of the house as long as it is in the range of the camera.
Some cameras are wirelessly connected to your computer which allows it to be placed anywhere in you house as long as it is in its signal range.
With access to the camera, you can record the images being transmitted with your remote computer. You will be able to store and record the images. So, in case something happens in your house, such as someone breaking and entering, you can record it and show it to the police. Because of this ability, the police can catch the criminal easier.
Some cameras can even record sound and can be in color or in black and white image. Click and white images is cheaper and offers better quality.
So, if you want peace of mind when leaving your home, you can consider installing an internet security camera. With this kind of camera, you can access your home wherever you are in the world. The internet can be a powerful tool that you can use for security purposes.
With this kind of security, you can be sure that you will know everything that is happening inside you home. The thought of leaving your home will never be unpleasant again. With the internet security camera, you will bring your home with you wherever you go.
So, if you want to secure your home, purchase an internet security camera. You will also need a high speed internet connection in order for you to access your internet security camera, and a compatible operating system. With this kind of technology, you will get your home secured from robberies. Locks is a thing of the past, secure your home with an internet security camera.