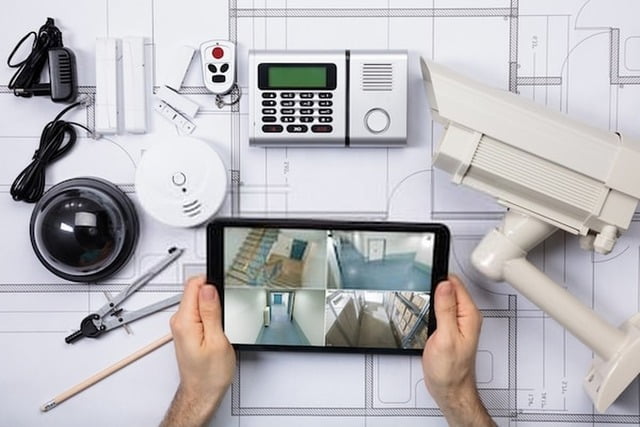 Imagine returning from your holiday to find your windows broken, your cars and possessions stolen and your pets gone. Your space has been violated.
Relax it shouldn't be necessary to answer that because with the proper preparation you can discourage intruders and have a carefree vacation.
Worry shouldn't be on the agenda when you are vacationing. Your holiday is a treat that should be enjoyed without stressing about the safety of your home. By planning ahead you minimize your risk of something going wrong while you are gone.
Depending on how long you will be gone there are a few common sense things you can do for your home, pets and possessions.
Discourage thieves by getting a house sitter. This is the best way to ward off trouble. If you know someone who will regularly stop by your house – water your plants and turn on the lights you are lucky. If you have animals you might want to think about hiring a house sitter for while you are away. This way your pets are properly cared for and your home is safer. Peace of mind is worth some extra money. If you are going to hire a house sitter – make sure you use reliable and trustworthy service! Ask around.
If you can't get a house sitter the goal is to make your house look lived in. It's a good idea to have a trusted neighbor to look after your home. Someone who can keep an eye on your property and who has a contact number for you should anything go wrong.
There are all kinds of timers you can buy that make it seem like there are people in your house. Light timers and radio timers can be very effective in deterring criminals.
Think about the state of your lawn before you leave. Overgrown grass is a loud signal that there is nobody home.
If you are going to be gone long enough for your post to pile up make an arrangement with a neighbor to pick it up – a pile of unopened mail is an obvious signal to criminals that nobody is home.
Even if you aren't going away for a long time there are some things that you need to do every time you leave the house.
– Always lock your door and leave a key with someone to check on your home while you are gone.
– Turn on the radio/TV and leave some lights on
– Do not leave your spare key under the doormat or in any of the equally obvious hiding places. Rather give a copy to someone else and don't have a spare key anywhere in your garden while you are home. If you MUST hide your key on the property be creative! That blue rock in the backyard under the tree behind the shed is a better/safer bet.
-Develop a reciprocal relationship with your neighbors. Watch their houses when they are away; keep your eyes and ears open for strange happenings and ask them to do the same for you. Group0 together and form a neighborhood watch of some sort
.
If you follow these tips you can be sure your chances are good that you will return to a secure house. If something has happened while you were out; here are some signs to look for
– Broken windows or door should be a major alert that something is wrong. Don't go inside! Call the police and have them check the property.
– If you think you have been broken into don't touch anything; you want to keep the scene preserved for investigation.

Tips For Keeping Your Home Secure While Away
– Make sure your home looks like someone is living in it. Don't close your curtains – in daytime, this shows the house is empty. Think about getting automatic time switches to turn your lights on in the evening.
– Fit mortise locks or bolts to all outside doors, and locks to all downstairs or easily accessible windows.
– Cancel any milk or newspaper deliveries.
– Cut the lawn before you go and trim back any plants that burglars could hide behind.
– Get a friend or neighbor to look after your home. They can collect your mail; mow your lawn and so on. This gives the impression that someone is living in your home. If you leave keys with a neighbor, don't label them with your address.
– Don't leave valuables, like your TV, hi-fi or video equipment, where people can see them through windows.
– Mark any valuable items with your postcode and house number using an 'invisible' pen that you can get from most hardware stores. If your property is stolen, this will help the police to provide them with better evidence to convict the people responsible.
– Make sure that you have up-to-date contents insurance.
– Do not put your home address on your luggage when you are traveling to your holiday destination.
– Lock the garage and shed with proper security locks, after putting all of your tools safely away so they cannot be used to break into your house. If you have to leave a ladder out, put it on its side and lock it to a secure fixture with a 'close shackle' padlock or heavy-duty chain.
– Finally, lock all outside doors and windows. If you have a burglar alarm, make sure it is set and that you have told the police who has the key.
– And just before you set off, it's worth spending a couple of minutes checking that you've done all you had to do and taken everything that you need with you.
Help from your neighbors
– It's also a good idea to get help from your neighbors. Ask them to keep an eye on your home while you're away.
– You could also ask them to collect mail left in the mailbox, sweep up leaves, and even mow the lawn and generally make the place look lived in.
– You can repay the favor by doing the same for them. Warn the neighbor who has your key not to put your surname, address, or even your house number on your keys in case they fall into the wrong hands.
– Is there a Neighborhood Watch program where you live? Your local police will tell you if there is a program in your area or help you set up one of your own. It could help you keep your home secure while you're away, and has many other crime prevention and community benefits.

A Safe & Secure Home For The Little Ones
The home should be the safest place for your child. However, statistics still show that at least four and a half million kids are injured every year right in their very homes.
Creating a child-friendly home is not an easy task and it may require specific adjustments inside your property that costs money. Still, there is nothing better than having the peace of mind that your kids are safe in your own home.
How do you set up a child-friendly home? Let me count the ways.
In the nursery or child's room, always make sure to anchor all large furniture on the wall or the floor. This will prevent it from falling over your child. Do not place the crib or bed beside the window where there are window blind cords or curtains. There have been incidents of babies and young children being strangled by these objects.
The slats of the crib should be at least 2 … inches apart. It should be stable and fixed on the floor. Do not place bumper pads and stuffed toys that can cause suffocation. Do not hang picture frames made of heavy wood or metal and glass. Also, do not set up shelves or hang lighting fixtures directly on top of your child's crib or bed. To be sure, use a baby monitoring device whenever your baby is alone in the room.
More caution and care would be needed when the baby is in the bathroom, even in your presence. Avoid accidental slips by keeping the bathroom floor dry at all times. Stick anti-slip mats on the tub, as well. Set the water heater to a maximum of 120 degrees Fahrenheit. Just adjust the heat when you are about to use it and change it back to 120 degrees Fahrenheit after.
Make sure you install lid locks on toilet covers to prevent small children from opening the lid without adult supervision. Also, keep bathing essentials on high shelves and cleaning materials in locked bathroom closets. The baby would be understandably interested in touching, groping and playing with anything in sight. Along with this, keep all electrical appliances, such as a blow drier and electric razor, out of baby's reach when not in use.
You would agree that the kitchen is not a place where the baby should be. However, there would be instances you want them near when you're in the room with usual chores. So to make the kitchen safe and secure for your baby, always keep the kitchen floor clean and dry. Get rid of peelings and other trash that your baby can grab and put in his mouth.
Keep all sharp kitchen tools in locked drawers, as well as those dangerous chemical products and items that are not safe for their wandering hands. At the same time, always make sure that you turn handles of frying pans and casseroles toward the middle of the stove. Put heated mugs, cups, and bowls in the middle of the table.
In the living room, you can make it the best spot where the whole family can enjoy watching and playing with the little one. To achieve this, invest in a play pen where your young child can stay while you and the rest of the family watch TV. If the baby wants to wander around, you would have to ensure that all "dangers" are omitted by covering electric outlets with plastic plugs or covers that you can buy at the hardware store.
Tie up electrical cords or Velcro tapes and unplug electric appliances when not in use. Do not display breakable objects at least until your child is old enough not to play with them. Cover sharp corners of furniture with silicone or plastic protectors as the baby will get injured or cut when bumping into these areas.
It's not advisable for babies to be taken into the garage and the basement. But if you can't help it, be very cautious as these areas of the house lurks many more dangers. As a basic rule, do not allow young children near the workshop where there are tools that can cause injury. Repair defective garage doors and keep all power tools and chemical products in locked closets to prevent from any event of your baby being trapped, injured or harmed.